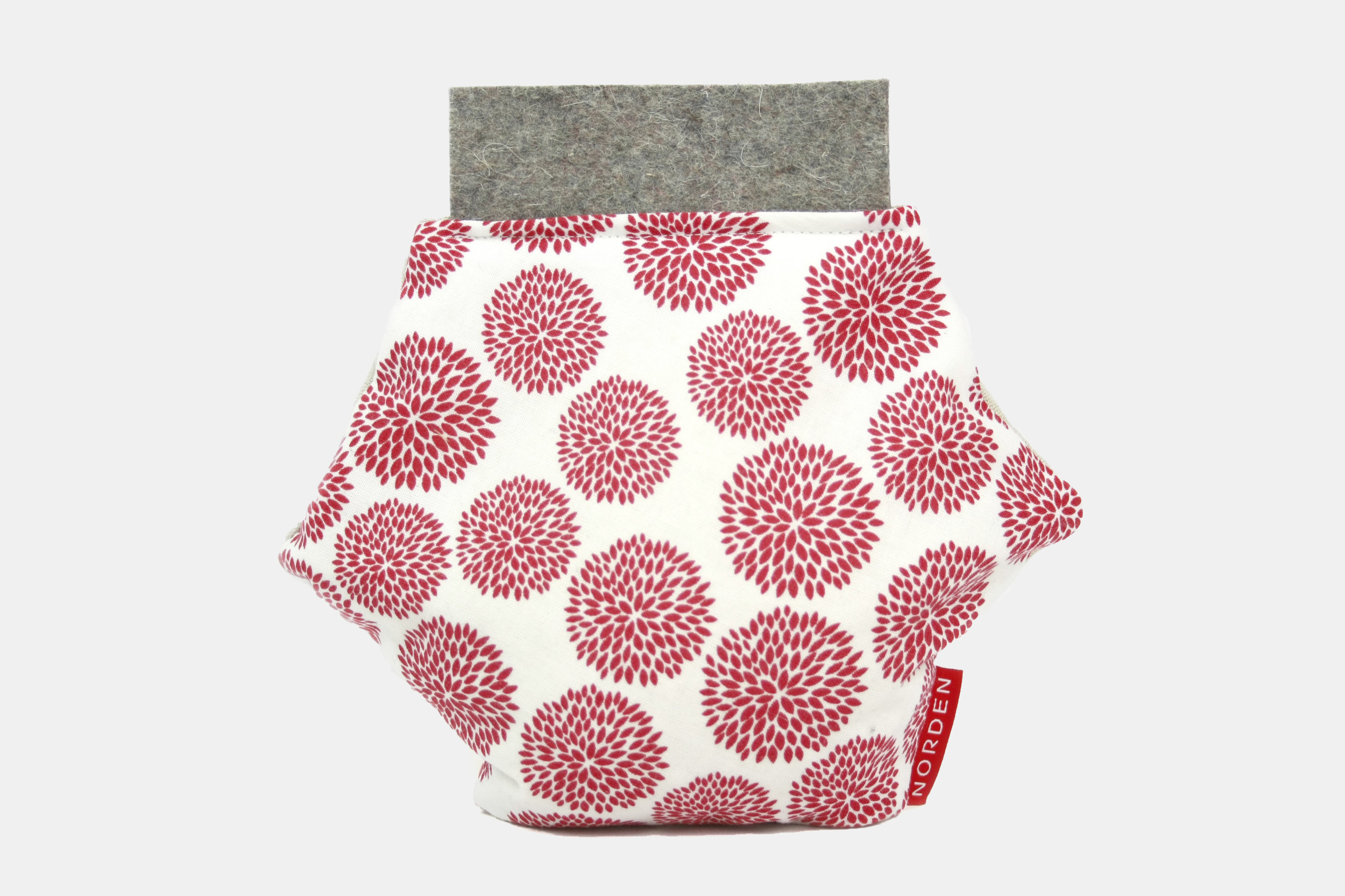 Cherry Pit Pad
Handmade item

Materials: cherry pits, linen, cotton, felt
Using washed cherry pits from Michigan, this pad is quickly heated in the microwave. It delivers a long lasting warmth and an enticing cherry aroma to relax and comfort you anytime you feel like cuddling up or are cold. Our cherry pit pads have a unique handheld tag, so you don't burn your fingers when you take it out of the microwave.

Our cherry pit pads are not only great for cuddle time on the sofa. Pssst...you can also put it in your bed to warm it up before you slip under the covers. You can even put a cherry pit pad under your desk at work to warm your feet (nobody will know!) If you easily get cold hands - for example when you work on your notebook all day - you can keep a cherry pit pad on your lap and warm your hands occasionally.

If you are experiencing occasional menstrual cramps, our cherry pit pad might just be for you! In our experience it can help relieve the pain, just like a hot water bag could.

You see there are many, many scenarios to use a warm cherry pit pad... but what about cold treatments?
If you have a headache you can use it to help to relieve pain. It also comes in handy if you need to cool mosquito bites - and these are just a couple ideas. Please share how you use your cherry pit pad with us in the comments section. We love to hear from you!
International order please email us for the shipping rates.
We are happy to serve you as well!

Thanks for visiting us in our etsy store!

Your Designers from NORDEN
Directions for use:
Cherry pit pads can be used for warm treatment like a hot-water bag or as cold treatment like a cold compress.
Warm treatment like a hot-water bag:
For warm treatment the cherry pit pad is heated in the in the microwave, up to 600 Watt for max. 1.30 minutes. The microwave heats up the residual moisture inside the pits to create a comforting warmth. Your cherry pit stays warm for approximately 30-45 minutes. You can extend the duration of that period when you cuddle up under a blanket!

When heating it up use a clean, dry dinner plate (porcelain or glass) to prevent staining the fabric. Heating the cherry pit pad for longer than recommended can cause burns or can damage your cherry pit pad - so be careful and make sure you can use it a very long time!

Cold treatment like a cold compress:
For cold treatment like a cold compress the cherry pit pad is cooled
(in a plastic bag) in the refrigerator or freezer for a relevant period of time.

Never leave cherry pit pads unattended in the microwave. Improperly heated cherry pit pads can present a fire hazard. You should let your cherry pit pad cool down completely before it is reheated again to avoid overheating and burning. If you can't wait carefully adjust/reduce the time to reheat.

For a long lasting joy of your cherry pit pad follow the instructions; but don't worry! We'll ship an instruction sheet along with your cherry pit pad! Don't hesitate to contact us if you have questions!
This pad was designed and handmade by NORDEN, LLC in Champaign-Urbana, USA; in part with fabric from Jo~Ann Fabrics. The shape of the cherry pit pad, the handheld tag, it's placement and combination/use of materials are trademarked by NORDEN, LLC. All rights reserved.

Front side fabric: 100% cotton, sourced from Jo~Ann Fabrics
Back side fabric: 100% natural undyed and unbleached linen

Inner fabric lining: 100% cotton
[inner fabric protects outside fabric from damage through occasional rough edged cherry pits]
Handheld felt tag: 35% wool, 65% rayon

If you accidentally stained your cherry pit pad you can carefully try to wash it out by hand. Never wash your cherry pit pad in the washing machine.

Disclaimer: NORDEN, LLC does not take any responsibility for any damages which occur through misuse of this product. This is not a licensed Jo~Ann Fabrics product. It is however, hand-crafted from Jo~Ann Fabrics fabric. NORDEN, LLC is not affiliated with or sponsored by Jo~Ann Fabrics.